Arizona Bark Scorpions
Arizona Bark Scorpions are the most venomous scorpions in the U.S. and a common pest in the Phoenix AZ Valley. These arachnids pack a power punch with a quick sting that often sends victims to the hospital for medical treatment. Reactions to an Arizona Bark Scorpion sting differ from person to person depending on their response to the venom.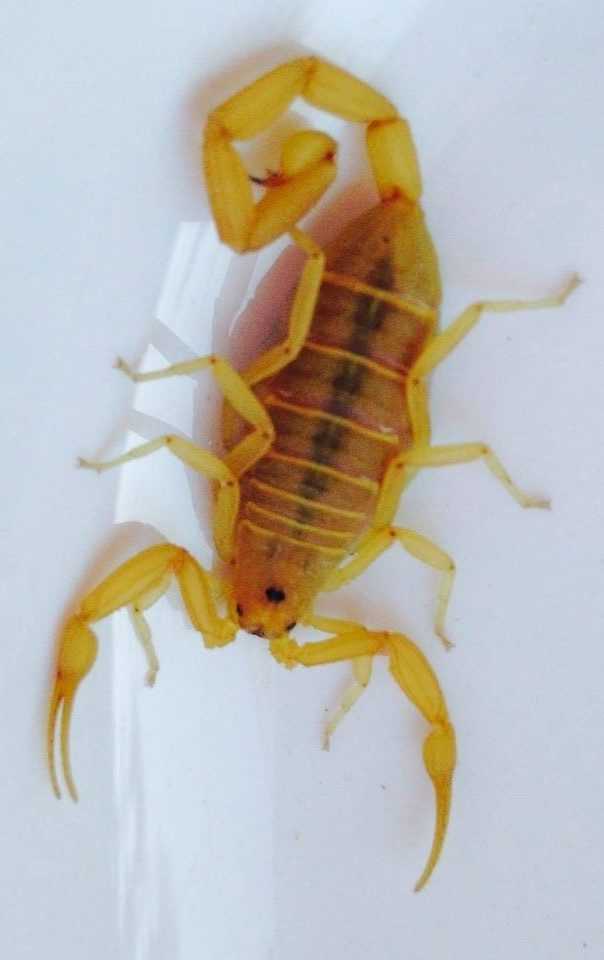 You can tell an Arizona Bark Scorpions apart by a "subaculear tooth" protruding just under it's stinger. A magnifying glass will help you see this the tooth, but it can be seen by the naked eye. But the easiest way to IDENTIFY an Arizona Bark Scorpion is by watching it's behavior… Arizona Bark Scorpions keep they're tails coiled up parallel to the ground while at rest while other scorpions keep their tails above their backs.
Scorpion Control
Scorpion Control is an important part of protecting your family and pets for those who live in the Greater Phoenix Valley and the Sonoran Desert. Regular pest control treatment do not kill scorpions. With their exoskeletons and complex respratory systems, Scorpions were made to survive just about anything.
EFFECTIVE Scorpion Control calls for specialized products & treatments designed to specifically for scorpions. Scorpion Control treatments only work with products designed to get scorpions out of sheltering areas and be specifically formulated to be able kill them.
Our house was a scorpion hotel when we moved in… I prefer to not play hostess to those who could harm me or those I love. So we tried other pest control companies, natural ones, cheaper options, etc. but no one stopped the scorpion parties. It wasn't until I found Responsible Pest Control that the scorpions learned that death would befall them if they tried to break into my home. After a couple of treatments, and several dead scorpions later, the scorpions stopped coming to our house. – Eric L in Phoenix AZ
Schedule ONLINE
or TEXT 480-924-4111
Or Call 480-924-4111 & 623-455-5460
Arizona Bark Scorpion Sting Symptoms
Arizona Bark Scorpion stings cause intense pain, bu the seriousness of stings depends on the persons reaction to the venom. People with allergic responses develop more serious symptoms. If you've been stung by an Arizona Bark Scorpion, please seek medical attention. Anti-Venom is available. Sting symptoms include:
Pain at the sting site with numbness that spreads to entire extremity. Weakness and paralysis of area or extremity can also happen. Victims may feel hyperactive or experience anxiety. They may experience: excess salivation. Dizziness. Difficulty talking. Difficulty swallowing. Respiratory distress.
Convulsions – this does not always happen.
– Bark scorpion stings cause NO swelling where stung. Swelling at sting site is caused by a less dangerous scorpion.
– Bark scorpion stings cause NO discoloring at the sting site. Discoloration at a sting site is caused by a less dangerous scorpion too.
(Source: NPMA Field Guide sec. 21)
Schedule ONLINE
or TEXT 480-924-4111
Or Call 480-924-4111 & 623-455-5460
Delivering EFFECTIVE Scorpion Control in Mesa, Phoenix, Chandler, Glendale, Gilbert, Scottsdale, Queen Creek, Maricopa, Ahwatukee, Tucson & surrounding areas.