Spring & Fall Bee Removal in Phoenix & Mesa AZ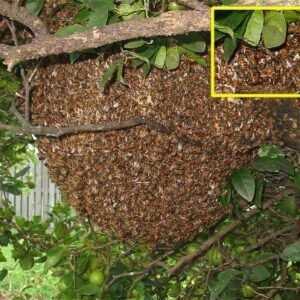 During Spring and Fall Bee colonies split. A New Queen Bee will leave the hive with hundreds of worker bees to find a new home and set up a new bee hive. These are called Bee Swarms. This is an alarming discovery around your home or office.
We understand the importance of Bees and their role in pollinating, and producing food for the world. If you have a bee swarm that needs to be removed, it can be captured live by The BeeMann in Phoenix or relocated to a Bee Keeper with hives in Buckeye AZ. Call Viril and Barbara Dowdy | Phoenix | 602-995-8099 | Any | Maricopa County
Providing Mesa Pest Control in Phoenix, Glendale, Chandler, Mesa, Gilbert, Scottsdale, Peoria, Queen Creek, Maricopa, & surrounding areas.