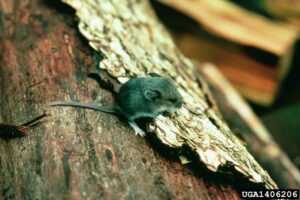 Rat & Mice pest control & exterminating in Phoenix & Mesa AZ metro areas – When Arizona night turn colder Rats and Mice will try to enjoy your warm home! Rats and Mice do considerable damage inside homes, and carry diseases. Once identified inside, work quickly to eliminate them because they will multiply quickly. You can help prevent rodents from entering your home by:
Seal all cracks, crevices, and holes – Use putty, expandable foam, or weather stripping, concentrate on areas around the foundation, doors, and roof/attic!
Screen Vents & Windows
Store all pet food in SEALED tight containers.
As cooler weather approaches ROOF RATS make their way into Phoenix area homes.
Rats and mice leave fecal matter and urine everywhere they go. Rats use there nose to follow pheromone trails left by other rats. They often enter homes, attics, & structures for shelter.
Rats are excellent climbers, & can climb strait up stucco walls, block fences, and walk on wires or branches to enter homes. Rodents can enter through open doors, holes by loose fitting pipes, roofing gaps, & un-screened vents. They can fit through very small holes in your construction that you probably don't even know are there!
Signs Of Rodent Infestation
Gnaw marks – new gnaw marks are rough, and older gnaw areas are smoother from wear. Old holes also can get greasy. Chewed wiring, and water lines.
Rat Feces
Rat Tracks and footprints. These foot prints will be a 4 toed print with a 5 toed footprint right behind it.
Greasy marks and paths or Rat tracks on vertical walls. These are areas that Rats use to climb up a wall or building.
Nests or Burrows – may have rub marks around it.
Look for food sources that have been eaten by Rats…..They love fruits (roof rats are attracted to Citrus Fruit!), veggies, cereals, and meat.
Noises coming from attic or walls, especially at night.
Rodent Control
The first step in effective rodent control is Exclusion. The most efficient way to prevent rodents from infesting a structure is to seal even the smallest entry points. Rats can get through holes as small as the size of a nickle.
After sealing your home or building, we remove rodents already inside by trapping. (We trap rather than bait rodents inside so you know where they are & can easily remove them.) If a rodent dies from poison inside it can be very hard to find.
Follow up is EXTERIOR rodent baiting to control outside rodent population, & pressure. Rat Exclusions are guaranteed for 1 year.
Contact us ONLINE, or call 480-924-4111 or 623-455-5460.
Responsible Methods & Guaranteed Control 20+ Years!
Responsible Pest Control Mesa AZ Making Happy Customers in Phoenix, Mesa, Chandler, Scottsdale, Gilbert, Queen Creek, and surrounding areas.