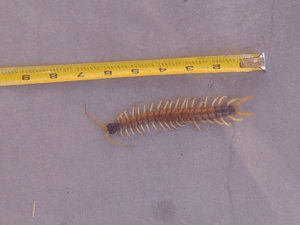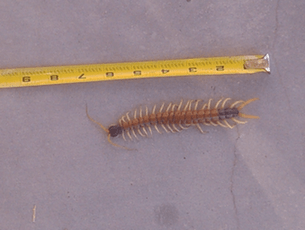 Giant Centipedes in Phoenix are commonly found outside the city. This one found was one while hiking at Reavis Ranch. Responsible specializes in Centipede Pest Control in Phoenix AZ.

Call for scorpion control 480-924-4111 Start Service Online > TEXT Us
This may look like a huge centipede, but they actually grow up to two inches BIGGER! Giant centipedes can grow to an impressive 8 inches long. One of the biggest centipedes, Scolopendra heros, is found in Arizona and Southern California.
Giant Centipedes BITES are painful but not normally life threatening. (Sensitive individuals could have a severe reaction, like with bee stings.) Bites cause tenderness and swelling that can disappear after four or five hours, BUT some people have reported tenderness and swelling to last several weeks. There are several EXOTIC Giant Centipede species, usually kept as pets, whose bites are dangerous. [Read more…]