Pest Control for Outdoor Gatherings
Learn how to PREVENT pest problems outside during any outdoor event! After all, nothing spoils an outdoor gathering like FLIES all over food or worse, wasps that want a bite chasing your guests!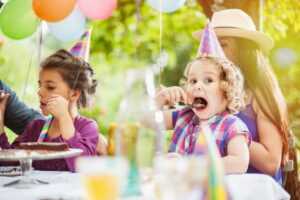 Control pests, wasps, bees, flies, and ants, that love to feed on foods at outdoor events like: picnics, fairs, and outdoor dining areas. Pests are attracted to sweet liquid or drinks, fruits, meat, and people wearing perfume. Get control before they become a problem!
How to control pests at outdoor events.
Make sure all foods and drinks are kept COVERED. There are several different containers that have lids or just plain old plastic wrap that keep foods covered so flies can't get to them. After all, nothing's more appetizing than flies on food!
Keep exterior tables and serving equipment wiped clean so little left overs don't attract flies and wasps.
Wipe up spills as soon as they happen. Sugary drinks and foods quickly attract ants, bees, wasps and flies that may already be in the area.
Wash out trash cans before your event, and empty them as soon as they're full.
Make sure your trash cans are COVERED and stored as far AWAY from serving and eating areas as possible.
Try not to wear strong perfumes, they attract pests to you. There's nothing more flattering than a bee mistaking you for a flower.
This is a BIG one: This is one of the BEST ways to PREVENT flying pests during outdoor activities… Strategically place fans to blow across serving and dining areas! This will deter flies, wasps and bees. It's amazing how well a good air flow keeps flying pests at bay!
Have a pest control service a week or two weeks before your event to eliminate wasp nests and crawling pests like ants, spiders, roaches and crickets!
Following these steps allows you to through an outdoor party or picnic like a pro, without the pests that usually cause problems outdoors! For all crawling pests, make sure you have the property treated with professional pest control at least a week before your event so pests have time to clear out before guests arrive!

Providing specialized Scorpion Pest Control in Phoenix, Mesa, Chandler, Glendale, Gilbert, Queen Creek, and surrounding areas.