Arizona Honey Bees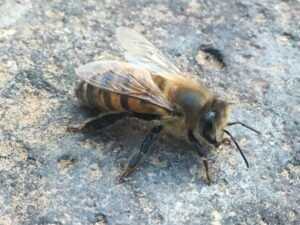 Honey Bees are one of those insects that are generally fear inducing, because when seen most people attribute to them to pain and/or an accompanying allergic reaction resulting from a sting. However, a bee only has one stinger, and once they lose it they die.

Bees are master pollinators and have a pollen basket built into their back legs that allows pollen to be collected on their hairs and transported back to the hive. In order to make one pound of honey, it requires a hive to visit 2 million flowers, which is one reason bees are considered to be such dedicated workers.
Arizona Honey Bees are able to live all year long. A honey bee swarm can have as many as 6000 bees. Although bees are generally known to be pain inducing hard workers that create honey, people are unaware of the vital role they play in agriculture and horticulture. Without bees it will be impossible to grow alfalfa, citrus, and a variety of other crops that Arizona is known for. Most desert bee species are generally harmless and will generally stay away from people. However, bees can construct hives anywhere, including in your backyard, which can be incredibly dangerous, especially for families with pets and children.
Bee Control or Removal
Never attempt to remove a hive by yourself. Africanized Honey Bees have made their way to Arizona, and these bees are known for their aggressive and persistent behavior. Africanized bees are much more aggressive than local bee species, and will continue attacking in defense of their hive. They've been known to keep attacking until a person has acquired so many bee stings that they die from anaphylactic shock. Because Africanized Bees look just like the native honey bees, it is incredibly difficult for one to determine if they are Africanized or not unless they have had lots of experience. The safest way to eliminate the threat of bees from an area is with professional help. If you have a bee problem: AVOID the area, and keep young children and pets away until a pest control professional can come out and evaluate the situation.

Delivering Pest Control in Mesa, Phoenix, Gilbert, Chandler, Glendale, Scottsdale and surrounding areas!