Restaurants get regular supplies shipped often laced with German Roaches making regular Pest Control For Roaches a VERY important!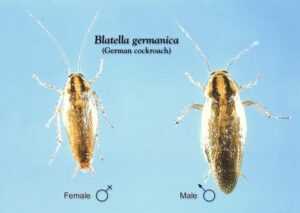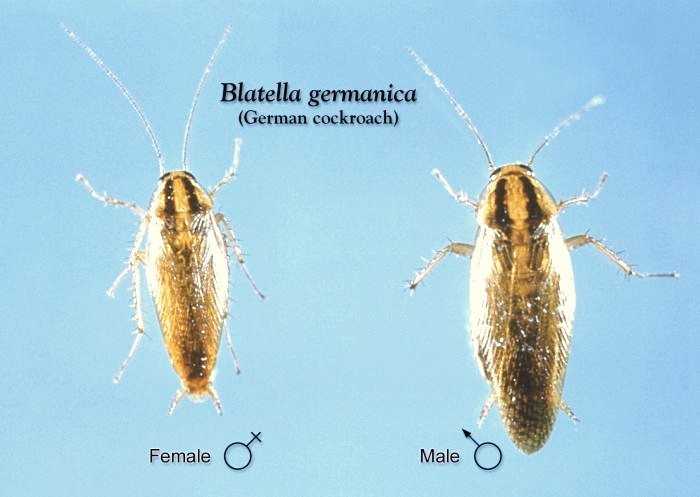 German Roaches love to infest packaging and boxes. No matter how clean a restaurant may be, there is ALWAYS a threat of German Roach infestation due to incoming shipments. Just a few of these cockroaches on a shipped in box are a HUGE problem!

German Roaches reproduce FAST, and just a few German Roaches can EXPLODE into a major infestation in a very short period of time! An adult female lives from 20 – 30 weeks, and produces up to 8 egg capsules in a life time, all containing 30 – 48 eggs. Eggs hatches every 28 days; MUCH faster than other roach species. If You've seen 1… There are MANY more!
Fun Fact: A cockroach can live a week without its head. It only dies because it can't drink!
SANITATION
Specialized German Roach Pest Control applications are not EFFECTIVE when German Roaches have other FOOD SOURCES, and excessive cracks / crevices to hide in.
German Cockroaches must come in contact with specialized Pest Control applications for a long enough time to be eliminated. Removing other food sources, sanitizing, & good repair, are KEY to an EFFECTIVE German Cockroach Pest Control treatment!
Preparation for SUCCESSFUL Commercial & Residential German Cockroach Control:
Store Food should SEALED containers… NEVER ON THE FLOOR!
Clean & SANITIZE SINKS and FLOOR DRAINS.
Plumbing should be kept in good repair.
Clean GREASE TRAPS regularly.
Clean ALL equipment DAILY(stoves, grills, refrigerators, tables, sinks, etc.)
Sanitize all surfaces that have FOOD CONTACT.
REMOVE Inoperable or unused equipment.
CLEAN & sanitize all dishes & utensils after each use.
SANITIZE all FLOORS, make sure they're in good repair. (No tiles coming up or broken.)
Clean WALLS and CEILINGS, make sure they're in good repair.
BATHROOMS must be clean and in good repair.
CLEAN Exhaust vent filters.
Make sure TRASH containers are LEAK-PROOF and have a LID ON THEM.
CLEAN Outside DUMPSTERS, make sure lids STAY closed.
CLEAN Outside Premises. (No standing water or loose garbage to attract or breed pests.)
CLEAN TOOLS (mops, brooms, SOILED LINENS etc.)
Responsible Pest Control Mesa AZ serving: Mesa, Phoenix, Chandler, Gilbert, Scottsdale, Glendale, Queen Creek, Maricopa, & surrounding areas.