Rose & Garden Pest Control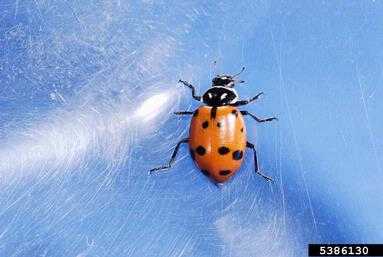 Desert homeowners, who love roses and grow them in the yards, may find Aphids or other bugs infesting their beloved flower bushes. There is a natural cure for this common problem.
Ladybugs
Yes, those pretty little bugs do a lot of good! They eat Aphids (and other pests) that damage rose bushes, flowers, and plants! You can buy Ladybugs online, or at a well-stocked pet shop. Just buy some pretty little ladybugs and put them in their new home. **Be sure to tell your pest control professional what you are doing so they avoid applying products in that area.**
Insecticidal Soap Pest Control
Aphids are plant pests that feed on leaves, stems, and roots. With their mouths, Aphids pierce plant surfaces and suck out juice. and they secrete a sweet liquid called "Honeydew". Aphids, and their honeydew (or the mold that grows on honeydew) damage plant surfaces. Aphid honeydew also attracts ants and other pests. In fact some ANTS actually "farm" Aphids for honeydew.
In your GARDEN control Aphids (and other pests) on PLANTS with an INSECTICIDAL SOAP. Health food stores sell liquid soaps, like Dr. Bronner's Pure-Castile Soaps.
When Aphids infest INDOORS Responsible Pest Control is extremely effective. For pests in an edible garden use insecticidal soap.
Read more about INSECTICIDAL SOAP: http://www.care2.com/greenliving/homemade-insecticidal-soap.html#ixzz24Hmx5S2R
Responsible Pest Control Mesa AZ – Making Happy Customers in: Mesa, Phoenix, Scottsdale, Chandler, Gilbert, Queen Creek, Maricopa, and the surrounding areas.