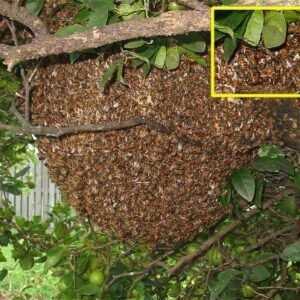 BEES
When a Bee colony matures and gets to big, the colony splits. Swarming bees leave the old colony with a new Queen Bee in search of a new home. These bees fill their bellies with honey for energy before they leave their old colony. Swarming Bees use lots of energy to relocate causing them to be aggressive and less likely to sting.
Bee Swarms
Often we get phone call from alarmed residents who see a SWARM of bees close to their home. When you see a large cluster (swarm) of bees, they are resting on their journey for a new home / new colony. (For bee keepers, this is prime time to capture the swarm!) Swarming Bees will usually leave on their own in a day or so.
Bee Removal
Sometimes bees start a new colony in an wall, attic, mailbox, tree, behind someone's shutters, garbage can, water box, and many other places. When a bee colony has started to make a hive or has established a hive on your property, then it is time for Bee Removal. The hive must be completely removed, and the area sealed, to guarantee against future re-infestation. (prices start at $85)
Responsible Pest Control Mesa AZ serving: Mesa, Phoenix, Scottsdale, Chandler, Gilbert, Queen Creek, Maricopa, and surrounding areas.