2 Main Signs of Termites
1. Mud Tubes (as pictured below)
Termite mud tubes are often on concrete foundation walls, but also poke through drywall and hang from ceilings.
2. Flying Termite Swarmers (usually after a heavy rain)
Termite swarmers are looking to start a new termite colony by finding a new home and mating! They usually are seen after monsoon storms or heavy rain.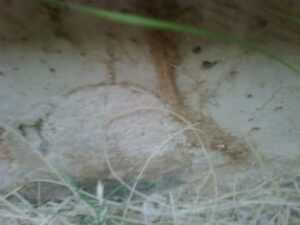 Termite Season in Arizona warms up during the spring but gets really busy after Monsoon season!

Termites Swarm during the spring and summer, especially after RAIN! For best Termite Control in Phoenix AZ Valley fix these contributing conditions:
Seal cracks in your foundation. Termites only need 1/32 of an inch to access your home.

Moisture – Termites seek moisture. Fix all leaky pipes and watering systems. Divert all moisture AWAY from your home. Make sure your not over watering. Soil around your home should be well drained, and allowed to dry. Constantly moist soil is a "Welcome" sign to Termites and other pests!
Scrap wood (Termite Bait) around your home and yard. Keep firewood at least 20 feet away from your home.
Direct wood to ground contact. (Including fences or other structures that contact the soil and the home.) Dig back all soil that contacts the stucco or wood parts of your home.
Schedule a Termite Inspection Online or 480-924-4111

Providing Termite Pest Control in Mesa, Phoenix, Chandler, Gilbert, Glendale AZ & surrounding areas!