The Key to German Cockroach Pest Control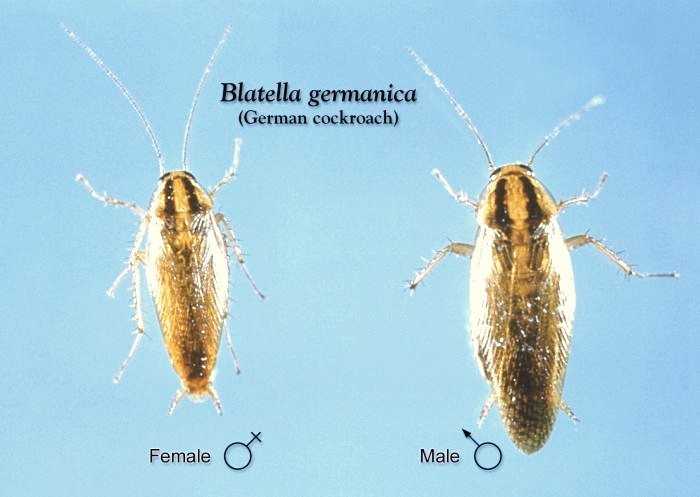 German Roach Control
German Roach Pest Control applications will not be EFFECTIVE when German Roaches have other FOOD SOURCES, and excessive cracks or crevices to hide in!
German Cockroaches must come in contact with specialized Pest Control applications for a long enough time to be eliminated. Removing other food sources, sanitizing, & good repair, are KEY to an EFFECTIVE German Cockroach Pest Control treatment!
Sanitation prep for SUCCESSFUL German Cockroach Pest Control:
Store Food should SEALED containers… NEVER ON THE FLOOR!
Clean & SANITIZE SINKS and FLOOR DRAINS.
Plumbing should be kept in good repair.
Clean GREASE TRAPS regularly.
Clean ALL equipment DAILY (stoves, grills, refrigerators, tables, sinks, etc.)
Sanitize all surfaces that have FOOD CONTACT.
REMOVE Inoperable or unused equipment.
CLEAN & sanitize all dishes & utensils after each use.
SANITIZE all FLOORS, make sure they're in good repair. (No tiles coming up or broken.)
Clean WALLS and CEILINGS, make sure they're in good repair.
BATHROOMS must be clean and in good repair.
CLEAN Exhaust vent filters.
Make sure TRASH containers are LEAK-PROOF and have a LID ON THEM.
CLEAN Outside DUMPSTERS, make sure garbage lids STAY closed.
CLEAN Outside Premises. (No standing water or loose garbage to attract or breed pests.)
CLEAN TOOLS (mops, brooms, SOILED LINENS etc.)
Providing EFFECTIVE Pest Control in Phoenix, Mesa, Chandler, Scottsdale, Gilbert, Queen Creek, & surrounding areas.
More From Responsible Pest