Termite Control
Responsible Pest Control provides multiple specialized termite treatments to protect your Greater Phoenix or Tucson, AZ, home.
In Arizona, termites are one of the biggest causes of damage to homes and businesses. These persistent pests can be a major cause for concern, but you won't need to worry with Responsible Pest and Scorpion Control. Give us a call when you need termite control treatments for your home or business.
Effective Termite Control and Prevention
If you're concerned about termites infesting your home either now or in the future, Responsible Pest and Scorpion Control has your back. We provide services and advice for preventing infestations as well as eliminating problems in progress. We offer several different treatment methods to ensure your home remains termite free.
Termite Baiting System
At Responsible Pest and Scorpion Control, we utilize an advanced termite baiting system that's designed to stop infestations before they start. We'll install our system and check for any signs of activity initially. If we see activity, we'll switch over to baiting the termites. This system is designed to utilize the termites' natural behavior so that they will share the bait with the rest of their colony, destroying it as a result.
Termite baiting is our primary method of eliminating infestations. With our treatments, you won't need to worry about termite damage.
Responsible Liquid Termite Solutions
Tried and true, our liquid treatment utilizes today's chemical advances to offer immediate control and protection. Plus, our products are designed to transfer throughout the termite's colony relying on the natural social behavior of the termite. In addition, our premium grade termiticides will be applied to the soil adjacent to your foundation around the exterior of your home.
The liquid treatment is an effective method for eliminating active termite infestations, and making sure they don't come back.
Responsible Fumigation Termite Solutions
Termites are often referred to as the "silent destroyers" because they can cause extensive damage to wooden structures without being detected for quite some time. Dry wood termites can wreak havoc on your home if left untreated. If you suspect that you have dry wood termites, it's important to act fast and seek professional help. Responsible Pest Solutions has the expertise to determine the extent of the infestation and recommend treatment. If it's too late to prevent a drywood termite infestation, Responsible is licensed to perform fumigation services, which can save your home from further damage.
Get Rid of Termites With Responsible Pest Control
Termites are a major nuisance you won't have to deal with when you choose Responsible Pest & Scorpion Control. We'll ensure your home or business has the best available pest control solutions. Contact us today or schedule your appointment online to get started
OTHER RESPONSIBLE PEST CONTROL SERVICES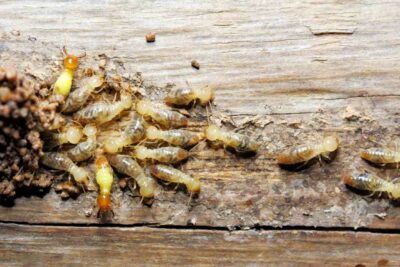 Contact Us