Do Scorpions Lay Eggs?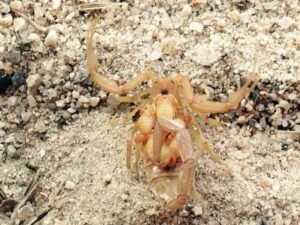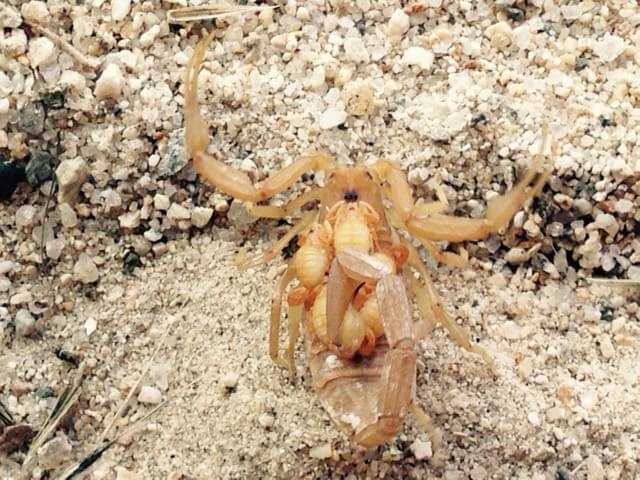 Let it be known… Scorpions do NOT lay eggs. They GIVE BIRTH, like mammals, to a big LITTER of LIVE tiny creamy white babies called "scorplings".
Scorpion Reproduction
Scorpions mate after a male locates a female using pheromones and vibrations. Following a long mating process, female scorpions undergo a gestational phase ranging from a couple months to 1 year. Scorplings are born alive, and climb up onto their mother's back.
By 2 weeks old scorpions are capable of stinging, and leave their mothers back to fend for themselves. Scorpions reach maturity in about 1 year, depending on the availability of food.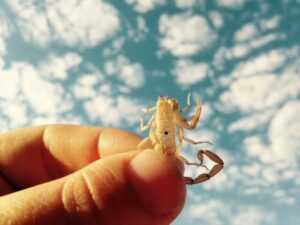 Scorpion babies "SCORPLINGS" are a creamy white color.
Tiny little Scorplings ride on their mothers back till their 1st molt (usually 10-20 days).
After their 1st molt, Scorplings leave their mother back to feed.
Scorpions molt 6 times before they're mature, between 3 – 4 years.
Adult scorpions live for several years! It's common for scorpions to live up to 8 YEARS!
Scorpions mate, throughout the Phoenix AZ Valley, during late SPRING & early SUMMER.

Scorpions can reproduce without fertilization, but it's not common.
ELIMINATE Scorpions at Your Home or Office – With GUARANTEED Scorpion & Pest Control services!
Delivering Scorpions Pest Control in Mesa, Phoenix, Chandler, Scottsdale, Gilbert AZ, Tucson & surrounding areas.