SPIDERS in Mesa & Phoenix AZ Valley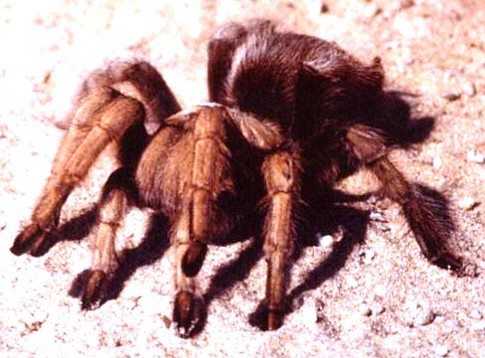 Spiders in Phoenix are often seen: running along walls, hiding out in corners, by doors, windows, house plants, and in garages. Our GUARANTEED spider pest control in Phoenix is part of Monthly or Bi-monthly services. We treat places that spiders and other bugs like to hang out, including:
Inside Along Baseboards
Cracks & Crevices
Door Thresholds
Exterior Perimeters of Home & Fence
Under 1st Story Eves
We have lots of spiders in Phoenix Valley areas that can give you the heebie-jeebies including: Black Widows, Brown Recluse, and the Wolf Spider. Brown Recluse and Black Widow spiders are poisonous, and need medical attention. Wolf Spiders are common household invaders, & are often mistaken for a Brown Recluse. Wolf spiders gets SOOO big (up to 2 inches) that they seem more like a "creature" than a spider! They're hairy, brown/grey color, and have two black lines on their back. Brown recluse have much less hair and a dark brown VIOLIN SHAPE on back of their heads instead of straight lines.
Pest Control for spiders includes six steps including: Inspection, Identification, PREVENTION, Sanitation, Physical Control, and Pest Control application.
Inspection – Identifying harboring areas and spiders around you home and yard.
Identification – Correct identification allows for correct treatment. Knowledge of spider habits help us treat effectively and eliminate conducive conditions.
PREVENTION – Prevention includes screening entry points, changing light bulbs that attract pests, eliminating food sources, treating harboring areas.
Sanitation – Sanitizing for spider control includes eliminating paper build up, boxes, wood piles, and debris or clutter that spiders can shelter in. Trim grass LOW (about three inches) and trim bushes and vegetation AWAY from the house and foundation. No plants should contact the building.
Physical Control – This is the manual removal of spiders, EGG sacks, and webs.
Pest Control Application – Because of the nature of spiders, effective control is an ongoing process – not a one time event. For example, Black widows spiderlings spread by climbing to a high point, spin a balloon web, and float out into the breeze to find a home of their own. Perimeter pest control treatments are effective with manual removal of spiders, egg sacks and webs.
Sources:
https://www.pestworld.org/news-hub/pest-articles/spiders-101/
https://www.nationalgeographic.com/animals/invertebrates/group/black-widow-spiders/
https://www.uky.edu/Ag/CritterFiles/casefile/spiders/wolf/wolf.htm
https://www.pestworld.org/pest-guide/spiders/house-spiders/
https://entomology.ca.uky.edu/ef631
https://ento.psu.edu/extension/factsheets/longbodied-cellar-spider
https://utahpests.usu.edu/schoolipm/structural-pest-id-guide/sac-spiders
Delivering Pest Control for Spiders in Phoenix, Mesa, Scottsdale, Chandler, Gilbert, Queen Creek, Maricopa, & surrounding areas.
More From Responsible Pest