Why Bees Like Swimming Pools in Phoenix, AZ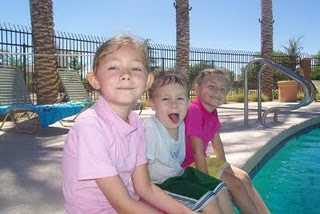 Bees live in honeycombs and LOVE pool water in Greater Phoenix, AZ. Beeswax, which honeycomb is made of, must stay at a cooler temperature. In hot weather, bees cool their colony and honeycomb with pool water!
Bees work at collecting water and spread it throughout their colony. Then, the bees actually fan the air—causing evaporation that cools the colony. Bees will collect this water from any source they can: for example, your swimming pools, birdbath, dripping faucet, or sprinklers.
How to Control Bees Around Your Pool
At first sight of bees around your pool, spray them with soap and water! This is the easiest and most natural way to stop bees quickly and the word will not be spread about the location of your pool (or good source of water). When you see any bees around your swimming pool, spray them with soapy water again.
Responsible Pest & Scorpion Control specializes in EFFECTIVE yet responsible pest control throughout Greater Phoenix, AZ, for the safety of your environment! Bees are extremely important to a healthy ecosystem! They are great pollinators for crops worldwide and promote the growth of food crops, trees, and most plants. At Responsible Pest & Scorpion Control, we also love bees and encourage responsible control methods over extermination whenever possible!
Delivering Pest Control in Phoenix, Glendale, Chandler, Mesa, Gilbert, Scottsdale, Peoria, Queen Creek, Maricopa, & all surrounding areas.
More From Responsible Pest