Cricket and Scorpion Control
Phoenix Bark Scorpion caught in the middle of it's favorite meal…. Crickets!

Crickets may seem like harmless pests, but consider this! Yes… Scorpions in Phoenix AZ feed on many insects, but they hold a special place in their heart just for CRICKETS! Scorpions prefer crickets, making pest control for crickets and general pests, an important part of Phoenix Scorpion Control around your home and yard!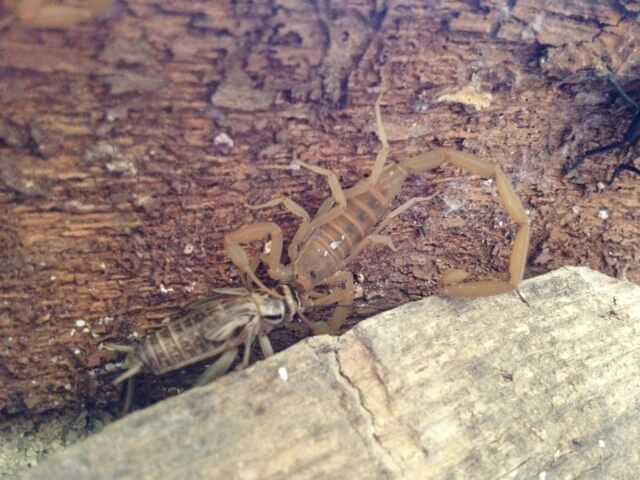 Having harmless insects, like crickets and roaches, around your home and yard can actually attract SCORPIONS!
Scorpions food sources, like crickets ROACHES and other insects, can actually attract SCORPIONS into your yard, and heaven forbid… Your home. Help PREVENT scorpion problems around your home – Schedule your regular Pest Control Service today!

Providing Scorpions Pest Control in Mesa, Phoenix, Chandler, Glendale, Gilbert, Scottsdale, Queen Creek, Maricopa, & ALL surrounding areas.