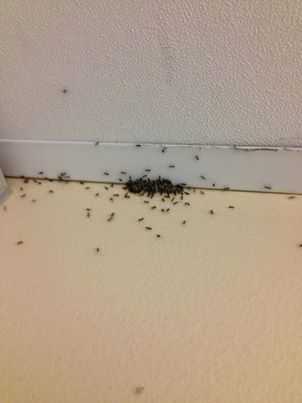 Emanuel shared a photo of his Pest Control Treatment for Ants in Phoenix. These little guys will bring this BAIT back to their colony, and feed it to their LARVAE…That's how you Effectively eliminate an entire Ant COLONY!
Ants are social insects that living in large colonies underground and in walls. They're ALWAYS working at EXPANDING the colony, and Ants will fight for territory (unless they're Argentine Ants) . You could eliminate ants one week, and have an entirely new colony MOVE IN from a neighboring property next week. We recommend our GUARANTEED MONTHLY or Bi-Monthly service program to control ants around your home or office on an ongoing basis. (If ants come back so do we ;)


Pest Control for Ants with Bait

Treatment for Ants depends on the species, and type of product. Many times bait are required to totally eliminate a colony…. If you don't eliminate the colony, Ants will just keep coming! Baits are taken back to the colony as food, thus treating the entire colony. This treatment takes a few days to totally eliminate the entire colony.

Delivering EFFECTIVE Pest Control for Ants in Mesa, Phoenix, Scottsdale, Gilbert, Chandler, Glendale AZ, & surrounding areas.