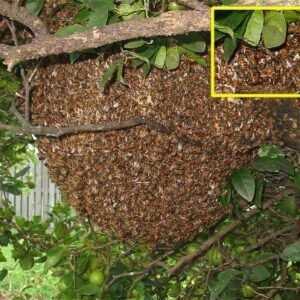 Bees are swarming all over the valley this spring. We got called to do a Bee Swarm Removal in Queen Creek AZ. These bees were looking for a new home and decided to rest in a tree at a Dr.'s office.
Unfortunately, when bees swarm in public places they pose a risk of harm to people. Did you know bees are even more dangerous than snakes? Bee stings kill more people each year than poisonous snakes!
The sun was going down when we got there; making these swarming bees even more docile than normal. Usually swarming bees, (bees that are traveling to find and make a new colony) are much less aggressive than regular bees because they're conserving their energy to travel. Usually bee swarms like this need no treatment because, they will move on after they rest a while.
Pest Control for Bees and Bee Hives in Mesa, Phoenix, Glendale, Gilbert,Scottsdale, Chandler, Queen Creek, AZ & surrounding areas.