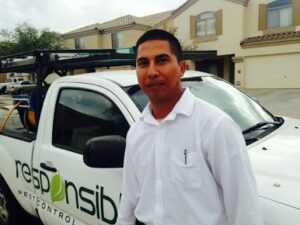 Our Phoenix Pest Control Tech's not only go through ongoing training, they get surprise tests in the field to assure quality, and effective Pest Control!
Have you ever seen the T.V. show Undercover Boss? Well we decided to do our own UNDERCOVER Boss operation to see our expert Tech's in action! Responsible Pest Control recently went undercover and tested our Phoenix Pest Control Pro's! Posing as customers, we watched them perform services, and asked questions to make sure they know the specific details that allow our services to be most EFFECTIVE!
Delivering EFFECTIVE Scorpion & Pest Control, with RESPONSIBLE Methods for the safety of Family & Pets, throughout the Phoenix AZ Valley!

Responsible Pest Control Pro's apply premium products with RESPONSIBLE techniques for the safety of your family and pets.
Delivering SUPERIOR Pest Control services using premium products, RESPONSIBLE applications, and Ongoing EDUCATION.

We'll answer any questions, make courtesy CALLS, wear BOOTIES while inside your home, SWEEP Spider WEBS, do FREE Termite Inspections, and pay attention to DETAILS!

Delivering Pest Control in Mesa, Phoenix, Glendale, Chandler, Gilbert, Scottsdale, Peoria, Queen Creek, Maricopa, & surrounding areas.