Green Bird Grasshopper
Grasshoppers.  We have all heard about the famous story of the grasshopper and the ant, but how much do we actually know much about these infamous insects?  The Green Bird Grasshopper is a common garden grasshopper in the American Southwest.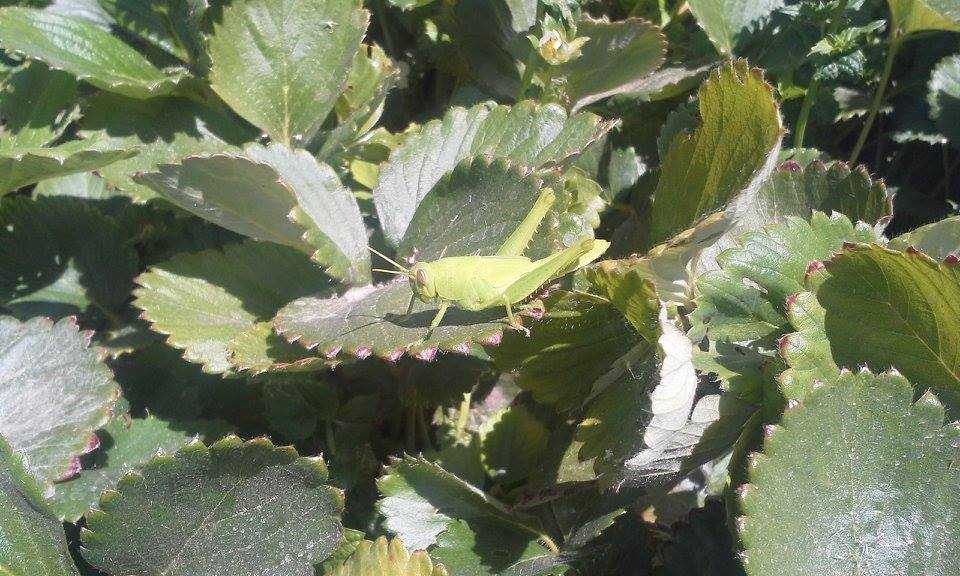 Grasshoppers, also known as locusts, make music by rubbing their wings or legs together, and they are capable of jumping up to 20 times the length of their bodies.  Something very unique to insects in the grasshopper family is that they have ears on their abdomens.  These ears vibrate when picking up on soundwaves, mimicking the way and eardrum works.  Because of this unusual ear drum, grasshoppers are able to hear each other's music with ease.
Damage
Although seemingly harmless, Grasshoppers are common garden pests and are often found near grasses and other vegetation.  When they are in their young nymph stage (when they don't yet have wings) they are capable of eating large amounts of foliage, which can be extremely damaging to gardens and yard vegetation.  The more vegetation is present, the faster they will multiply and reproduce.  When threatened they have a special talent:  the ability to spit brown liquid that is meant to repel potential predators.
Not only can grasshoppers successfully annihilate all manner of crops and gardens, they also tend to lay their copious eggs amidst flowers and grasses, making gardens and crops a prime location for eggs to be laid.  These eggs hatch during the spring and summer.
Control
Although intuition might suggest that hand removal of these insects would be the easiest solution… Their compound eyes makes it extremely difficult to capture them before they see you.  The only effective way to deal with a resulting grasshopper infestation is through Pest Control treatment.
Author:  Jasper Lynn Robinson
Sources:  Borro and DeLongs Introduction to the Study of Insects, 7th Edition, by Charles A. Triplehorn and Norman F. Johnson
Delivering Pest Control in Mesa, Phoenix, Tempe, Gilbert, Scottsdale, Chandler, Queen Creek, Maricopa, Glendale, & the Greater Phoenix Valley.