Scorpion Control vs. Pest Control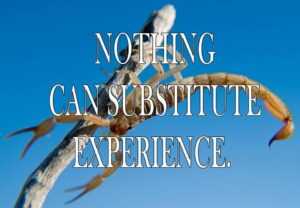 Effective scorpion control is differs from general pest control through product selection and treatment methods. Scorpions are built survivors, and one of the hardest pests to control, so scorpion pest control treatments must be specialized to work.
Products
There are hundreds of good professional pest control products available today, and they work great for general control of common bugs (ants, roaches, crickets, spiders, etc.) Scorpions aren't killed by most of these products unless they're sprayed directly, making them much less effective for scorpion control. To make matters worse, there are many professional pest control products labeled for scorpions that do not work well.
Modern pest control is designed to continue working long after it's applied – This isn't true with scorpions and most pest control products. Knowing which products work, and where they work, produce successful scorpion control.
Treatment
Scorpion pest control treatments differ from general pest control because sheltering areas must be thoroughly treated. This includes dusting in wall voids, dusting inside block wall fences, treating weep areas around the exterior of homes, applying correct products in every nook and cranny scorpions shelter in.
General pest control is effective with a less thorough application because most pests don't stay hidden, concealing themselves like scorpions.
Start Service Online
Or Call 480-924-4111
Providing Scorpion Pest Control in Mesa, Phoenix, Chandler, Glendale, Gilbert, Scottsdale, Queen Creek, Maricopa, & ALL surrounding areas.