Scorpion Inspections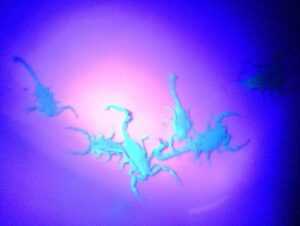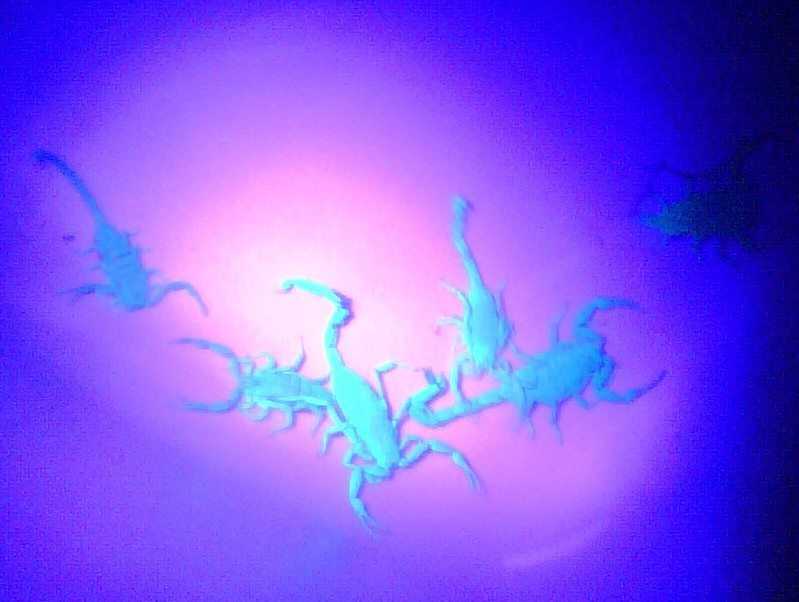 The BEST way, and time, to inspect for scorpions is outside in the dark with a black-light flashlight!
Learn how to inspect for scorpions, and put your mind at ease. Weather you find scorpions or not, knowledge empowers you to PREVENT or control scorpions.
Scorpions GLOW a bright yellowish-green color in the dark under the light of a "bliacklight" flashlight. You can pick up these blacklight flashlights on Amazon, or at your corner drug store. Slowly walk around your home, or property, shinning the blacklight flashlight near: the foundation, landscaping rocks, piles of dead leaves, in cracks and crevices of concrete expansion joints, concrete patios and block wall fences, inspect inside sheds, under loose bark of trees and shrubs (Wear leather gloves!), and other secluded areas.
You can also TEST an area to see if there's much of a scorpion population… Soak an area with water, and put a piece of cardboard over it with a rock on top to hold it down… Scorpions in the area will be attracted to the shelter and the moisture. Wearing protective gloves, inspect under the cardboard for several days. If several scorpions are found, you have a high potential for scorpion infestations.
Providing Scorpion Pest Control in Mesa, Phoenix, Chandler, Glendale, Gilbert, Scottsdale, Queen Creek, Maricopa, & ALL surrounding areas.