Aphids are a plant pests that feed on leaves, stems, and roots. Aphids pierce plant surfaces and suck out plant juice.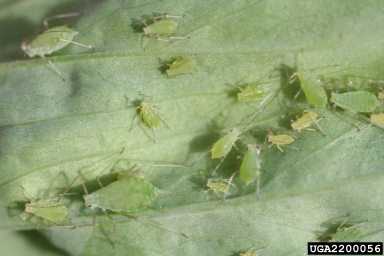 They secrete a sticky sweet liquid called "Honeydew" from their anus. Honeydew is a food source for some ants and actually attracts them and other pests. As a matter of fact, some ants will FARM Aphids for their Honeydew waist. Aphids, their honeydew or the mold that grows on honeydew, can damage plant surfaces.
When Aphids are brought INSIDE they can infest a home. Pest Control treatments are highly effective for Aphid infestations indoors!
In your flower or vegetable garden control Aphids and other PESTS with an Insecticidal Soap – Insecticidal Soaps kills bugs in your garden by dehydrating them. These soaps destroy the waxy coating on their body that keeps moisture in! But be CAREFUL… If you use too much soap you'll end up killing your plants too, so follow this recipe… Mix between 1 and 2 tablespoons of Dr. Bronner's Liquid Pure Castile Soap with 1 full quart of water. P.S. Dr. Bronner's Pure-Castile Soaps are available at Health Food Stores.
Call NOW >
Start Service Online >
TEXT for Service
Delivering GUARANTEED Pest Control in Phoenix, Mesa, Gilbert, Scottsdale, Chandler, Queen Creek, Maricopa AZ & surrounding areas.