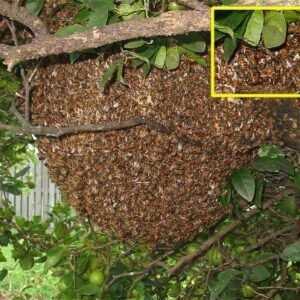 Did you know that Honeybees are more dangerous than snakes? Bees kill more people each year than all poisonous snakes combined!
Pest Control for Bees in Maricopa for Bees in Maricopa should only be done by a professional, and only when Bees are a threat to people or pets.

Special protective equipment, and a bee suit with veil should ALWAYS be used! (Prices for Bee service start at $85) Pest Control for Bees is NOT always necessary! Usually swarming bees (bees that are traveling to find and make a new colony) are much less aggressive than regular bees, because they're conserving their energy to travel. Bee Swarms like the one above need no treatment – They'll move on after they rest a while!

Providing Family & Pet friendly Pest Control in Maricopa AZ, & surrounding cities.
Picture taken by Dennis Driggs