Responsible Pest Control does live trapping of Pigeons on Commercial & Apartment buildings throughout the Phoenix Valley.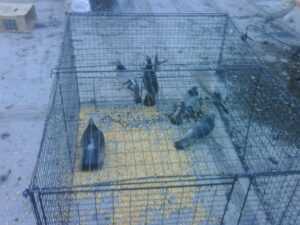 Live traps require large flat roof areas, where they can safely be placed. This is an ONGOING service to remove infestations, and maintain low Pigeon populations. Pigeons spread disease causing germs, and cause damage to buildings.
Pigeons can carry diseases like:
Cryptococcosis
Toxoplasmosis
Salmonella
Food poisoning
Pigeons carry other pests that live on them, including:
Fleas
Lice
Mites
Ticks, and other pests.
Delivering EFFECTIVE Pest Control in Mesa, Phoenix, Tempe, Gilbert, Scottsdale, Chandler, Queen Creek, Maricopa, Glendale, & the Greater Phoenix Valley.