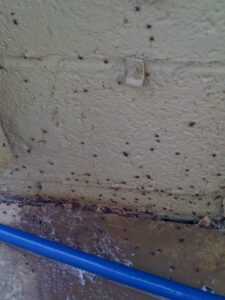 Pest Control for Ticks in Glendale AZ
Successful tick pest control requires a specialized and intelligent treatment. Specific products and application measures control Ticks differently than those used to treat general pests. Insect growth regulators inhibit reproduction and help keep you free of Ticks fo the long term.
To get fastest control of Ticks, We ask you to get your pet treated for Ticks (Frontline Plus works great
) about the same time that WE embark on Tick Control Treatments.
Ticks
Ticks in Glendale AZ are usually the Brown Dog Tick species. They not only feed on pets, but can also feed on human blood too. (an alarming experience) Ticks are usually picked up by a pet outside from areas where other animals have been, and are often brought INDOORS. Brown Dog Ticks often infest INSIDE homes in Glendale.
These ticks can go a long period of time without a meal surviving in a home for several MONTHS without feeding! Dusting and vacuuming are important for effective Flea & Tick control with your professional Treatment.
Tick Control Process
Get pets treated about the same time as your specialized Tick Control Treatment (Frontline Plus)
Vacuum 7 Dust surfaces floors, curtains, and furniture.
Wash a your linens, and dry on high heat.
Now your ready for Specialized Tick Pest Control Treatments!
Monthly and Bi-monthly pest control services PREVENT future infestations!
Ticks pose serious health risks to your pets & family. We recommend the following to help reduce your pets exposure to Fleas & Ticks:
Watch your dogs for excessive scratching, nibbling, and licking.
Check for ticks regularly, especially after outings.
Don't walk your dog in TALL grass.
Bathe dogs regularly and after outings or time with other animals.
Launder your pets bedding, floors, and furniture frequently.
Make sure you empty vacuum BAGS into the EXTERIOR trash!
Responsible Pest Control serving Phoenix, Mesa, Gilbert, Scottsdale, Chandler, Glendale, Queen Creek, Maricopa, & ALL surrounding Cities.