Las Sendas Pest Control
You have Responsible Pest Control to help keep pests & scorpions controlled… What about RATS?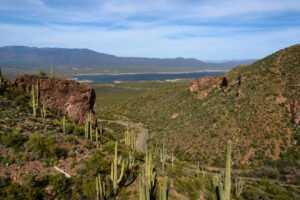 Las Sendas in one of the nicest communities in the Phoenix Valley with so many amenities and outdoor recreational perks living so close to nature. There are so many reasons to love living nest to the Tonto National Forest and one of them is the wild animals that live there.
But there's also a few undesirable creatures like scorpions and rats. Responsible Pest Control Mesa AZ treats scorpions and pests in Las Sendas year round and we often get calls for Rat problems during the winter.
There are several signs of a rat problem that homeowners can watch for including:
Feces are one of the biggest signs usually found in areas around BBQ'S, air conditioning units, pool equipment, and other somewhat secluded areas.
SCRATCHING noises! Listen for scratching sounds at NIGHT or in the early morning. If rodents have infested your attic you will usually hear scratching or GNAWING noises. Since rodents are nocturnal the best time to hear these are early morning or during the night.
Neighbors have rodents? Usually if your neighbors had rodents you have them too. Rats will travel up to 100 yards from their nest to gather food and water.
You SEE a RAT. If you have seen a rodent on your property, chances are you have an issue that needs to be dealt with.
Fruit on your tree partially eaten or disappearing. If a rodent is eating from your tree you will see hollowed out fruit that's often still hanging from trees.
Most rats in Las Sendas are Roof Rats that like to eat off fruit trees and climb stucco walls getting inside attics for shelter and warmth during the winter. Rats leave pheromones everywhere they go that attract other rats so controlling them around previously infested areas requires bait stations and SEALING.
Prevent Rat & Pest Infestations
Responsible Pest Control specializes in EFFECTIVE scorpion control that also controls general pest with monthly service. PREVENT rat invasions with exterior bait stations added during monthly scorpion pest control services.
Responsible Pest Control delivers the most effective scorpion control service in the Phoenix Valley on a monthly basis. This service also eliminates all general pests, and Rat Bait stations can be added to help control rats outside and around your property. Rat bait stations also help MONITOR rat populations in your yard.
We also recommend Sealing your home, because rats are a problem in the Las Sendas area.
Home Sealing
The BEST way to PREVENT rats from getting inside your home or infesting other structures is to SEAL them out. Get your home professionally SEALED! Sealing your home is the first step in effective rat control and eliminates entry points. Rats are very smart and can find entry without too much effort. Rats get into homes and other buildings through holes as small as a nickle. Rats also have large strong teeth that they use to CHEW through building materials to gain access.
We recommend the home sealing experts at We Seal It to effectively seal rats and other creatures from gaining access inside your home. We Seal I pro's go over your home with a fined toothed comb identifying entry points that are or might be used by Rats and other pests. We Seal It are licensed contractors that know exactly where rats (and other creatures including scorpions) get in, and how to seal them out the best way! They're work is honest, high quality and comes guaranteed. They can be reached at 602-866-3560. Sealing your home is an EFFECTIVE way to keep rats and other rodents OUT for good!
Tips
Pick up after your pets. Rodents are often originally attracted to an area because of food source. If you have a dog or a cat do not leave pet food outside in a dish over night. Rats love feeding on dog and cat food!
Pick your fruit. If you have a fruit tree and you never pick it… Rodents will eat it for you!!
Remove excess debris from around the home. Rodents love piles of wood, old vehicle parts, cinder block piles, etc.
Clean up after your BBQ. This may sound nasty but rodents love BBQ's so keep it clean.
Seal entry points to your home. This is usually done by a trained professional. Rat Sealing is time consuming and takes a good knowledge of construction, and rodents habits to find all entry points that need to be sealed.
Delivering Scorpion & Pest Control in the Las Sendas community and surrounding areas!