Big Phoenix Scorpion Problems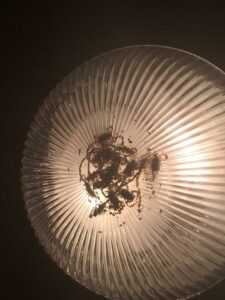 Scorpions are a common sight in Phoenix, But you know you've got a big scorpion problem (time to get Scorpion Pest Control ) when you see these 3 signs:
#1. You know you have a BAD scorpion infestation when you see scorpions in the hanging light fixtures!
Bark scorpions LOVE to CLIMB, and they're really good at it. They easily climb interior and exterior walls, and hang from ceilings. Scorpions often fall off ceilings into beds, light fixtures, and other places. About the only thing scorpions can't climb is glass. Glass has a smooth surface that provides nothing for scorpions to "get a grip" on. Seeing piles of scorpion corpses in a light fixture means you have an infestation!
#2. Seeing scorpions inside your home or yard during the day.
Scorpions are naturally nocturnal pests… And they'll get to shelter as the sun come up. That's why the best time to hunt scorpions is at night! Seeing scorpions around your home during the day is a sign of a bigger scorpion problem. (Unless you just had scorpion pest control service, and they're coming out dying. Scorpions get sick after coming into contact with specialized scorpion control products, and their behavior changes as they die ;)
#3. Mamma scorpions with babies on their backs!
Female scorpions give birth to a live brood of scorplings. Baby scorplings climb onto their moms backs, and ride around for about 2 weeks. Those little scorpions then leave their mom and spread out to hunt! Young scorpions look just like a full grown scorpion, but they're much smaller and a creamy white color.  Seeing a baby scorpion inside your home is a sign of a big scorpion problem. Eliminate scorpions and prevent infestations with Scorpion Pest Control service!
Delivering Phoenix Pest Control services in Phoenix, Mesa, Chandler, Glendale, Gilbert, Scottsdale and surrounding areas.