Apache Junction Termite Control
Termite Control Apache Junction requires specialized products and application techniques that eliminate termites in their deep underground colonies. Termites cause more damage than fire and floods combined every year! Protect your investment with the expets at Responsible Pest Control! Our professional Termite Inspectors offer Termite Inspections in Apache Junction.
Apache Junction Termite Inspections
Signs of a Termite Infestation can be hard to spot, and termites will tunnel for hundreds of feet to find a food source. Call the experts at Responsible Pest Control for a professional Termite Inspection
At your convenience, our professional Termite Inspectors identify and give written report of:
Any Type of Termite found
Where they are located
What product is needed
What treatment includes for complete Termite Colony Elimination
Most termites found in our area are Subterranean Termites that live in vast colonies as deep as 50 feet underground, & come up in search of cellulose (including the wood products in your home). Homeowners often call us when they discover mud tubes going up a foundation, poking through a wall or ceiling, or when they see flying termites "swarming" around their home.
Guaranteed Termite Treatments
Preventive Termite Control
Localized Termite Control Treatments
Corrective Termite Control
Renewable Termite WARRANTIES (annual renewable warranty plans)
To control Subterranean Termites we treat the ground around & under the foundation. Topical treatments (like regular pest control treatments) will have no effect on Subterranean Termites in their protective tubes and underground. A Full House Subterranean Termite treatment always includes trenching, usually drilling, and sometimes interior wall treatments. Expert Termite professionals drill EXPANSION JOINTS, as much as possible, to save homeowners from the look of drilled concrete around their home.
Termidor Termite Control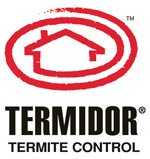 GUARANTEED Termite Control starts with the BEST Termite product – Termidor.
Termidor isn't a termite repellent and is totally undetectable to termites. This makes Termidor VERY effective because Termidor works like an insect disease. When termites eat or touch Termidor, they become "carriers", and transfer Termidor to all the other termites they come in contact with. Those termites then become "carriers", and so on. Termidor is a slow acting product so that the "carrier" termites have time to pass it on to their entire Termite Colony before they die themselves.
Preventive Termite Protection
Be proactive against Termites! Most buildings started with a pretreatment for Subterranean Termites. Those Termite Pre-treats are supposed to last five years. We recommend a termite control treatment for Subterranean Termites every three to five years thereafter. Call for a Termite Inspection. (Fee applies for escrow.)
Schedule ONLINE, or call 480-924-4111, or 602-334-4831
Responsible Termite Control Apache Junction AZ & surrounding areas.