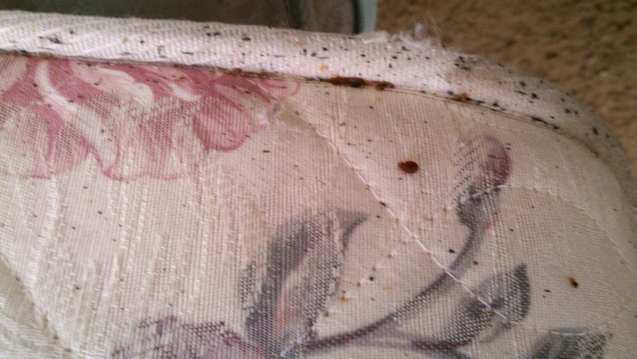 This is what a Bed Bug infested mattress looks like. This is a side view, just under the ribbing that's the corner border between the top and the side.
When inspecting your mattress make sure to lift up this small ribbing, because it is a favorite place for bed bugs! This larger reddish colored spot is actually a Bedbug. Bedbugs are a reddish rusty color, and they are about the size of a tick. The small black spots are Bed Bug droppings (blood).
Responsible Pest Control provides GUARANTEED Be Bug Control throughout the Greater Phoenix Valley! Learn More About Bed Bug Facts, Identification, Laws, and Control.

Responsible Pest Control Mesa AZ – Making Happy Customers in: Chandler, Mesa, Phoenix, Glendale, Scottsdale, Gilbert, Queen Creek, Maricopa, & surrounding areas.