Q: What is The Loudest Insect? A: Cicadas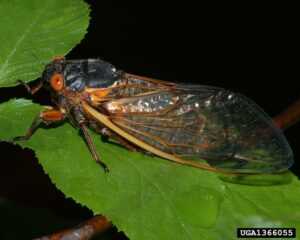 Ahhh… Cicadas! You either LOVE them, or they drive you CRAZY in the summer! MALE Cicadas get extremely loud during July in Phoenix Arizona areas, but their mating call only lasts three – four weeks. Cicada buzzing is so loud it can be heard up to 440 yards away!
The Cicada is the loudest insect by far throughout the USA, and the WORLD! These bugs look like enormous, over sized FLIES with GIGANTIC sized eyes. They actually have 5 eyes! The MALE Cicada's mating call can be heard for distances up to a quarter mile away.
Fact: If you've ever walked under a tree during Cicada season, and felt a sprinkle… It could very well have been "Cicada rain". Cicadas drink lots of plant fluids, and secrete "Cicada Rain" in plain English that means Cicada pee!
Cicadas fly and live in the trees, so they are not a general pest control target. Because Cicadas can be heard 440 yards away, so even with crazy pest control efforts at home, the buzzing sound will continue. Many people around the world EAT Cicadas… buy in the Phoenix Valley they're considered a nuisance Pest.
We have plenty of pests in the Phoenix Valley that require Pest Control from SCORPIONS to Black Widows, but Cicadas pose NO MEDICAL threat and DO NOT infest homes. They do cause damage to mesquite trees that they feed on as they cause branches to die back a few feet from the tip. This does NOT actually harm the tree, and can be considered natural pruning!
Delivering Pest Control in Mesa, Phoenix, Glendale, Gilbert, Scottsdale, Chandler, Queen Creek, AZ & surrounding areas.