Scorpions Under Black-Light
Under the shine of a BLACK LIGHT, scorpions GLOW a bright florescent yellow! Scorpions are usually hard to spot because they blend in with the color of desert landscaping and neutral colored flooring. BUT, in the DARK, with a Black Light flashlight scorpions stand out like little STARS!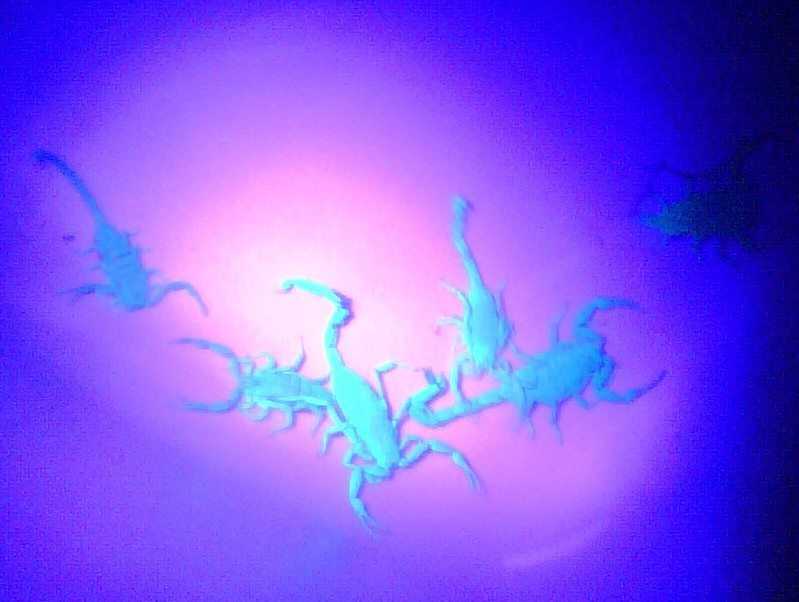 Responsible Pest Control's expert Scorpion Tech's have collected 100's of scorpions, & ran 100′s of tests with professional scorpion control products to develop a Scorpion Pest Control treatment that kills SCORPIONS… Not only the bugs scorpions feed on!
Our expert Pest Control Tech's know WHICH PRODUCTS really work and WHERE they work to deliver EFFECTIVE Scorpion Control!
What to Expect
After your Initial Scorpions and Pest Control Clean Out scorpions, and other pests, often come out of cracks and crevices before dying. Scorpions from the desert, green belts, and neighboring properties can continue to enter your yard. BUT as soon as they contact our protective pest control barrier, scorpions get slower and slower till dead. The dying process may take 1-2 hours. IF you ever SEE SCORPIONS while on our regular monthly service, they'll be DEAD or slowly DYING ~ GUARANTEED!
Arizona scorpions and Bark Scorpions live ALL year LONG.
Scorpions survive the coldest temperatures our desert has.
In the winter, Bark Scorpions actually GATHER in GROUPS of 20 – 30!
For EFFECTIVE Scorpion Control, use Scorpion Pest Control services year round.
Delivering the best Pest Control for Scorpions available! We stand behind our Scorpion Pest Control methods because we've DONE OUR HOMEWORK. Join 1,000′s of happy customers living SCORPION FREE in Arizona!
Responsible Pest Control for Scorpions in Phoenix, Mesa, Tempe, Gilbert, Scottsdale, Chandler, Queen Creek, Maricopa, Glendale, & ALL surrounding areas.